Features
Easily Transform Paper with the Touch of a Button
Achieving organization with the ScanSnap iX100 starts with the touch of a single button and ends with a host of productivity features that keep you ahead of the stack.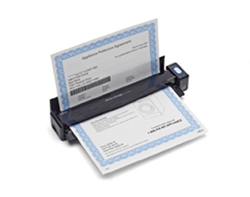 Scan to:
PDF
Searchable PDF*
JPEG
Word (editable)*
Excel (editable)*
Business Cards*
Mobile
*Available only when scanning to a computer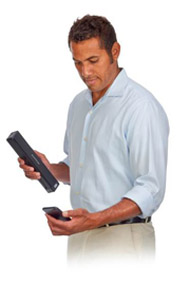 Compact and Portable
At only 400 g (14.1 ounces), the ScanSnap iX100 provides portability and ease of use at your fingertips.
Scan anywhere you want whenever you want
Connect the iX100 to your computer or smart device (both iOS and Android OS)*1 in your office and at home, using existing Wi-Fi environments with Access Point Connect Mode*2. Connecting is also possible in environments without Wi-Fi using Direct Connect Mode, as the scanner itself functions as an access point.
*1 When using smart devices, ScanSnap Connect Application is required.
*2 Access Point Connect Mode requires a Wi-Fi access point or router.


Battery power
Scan up to 260 documents on a full charge and easily recharge using a USB charger.
Quick digitization
Scan 5.2 seconds per page even at 300 dpi in color!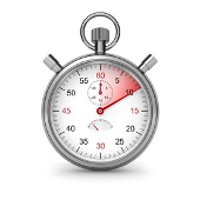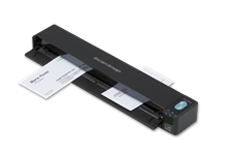 Dual scan
Scan two small sized documents, such as business cards or receipts at the same time.
Auto two page stitching
Even charts and diagrams larger than A4 can be scanned. Just fold it in half, scan both sides and the iX100 will automatically stitch it back together.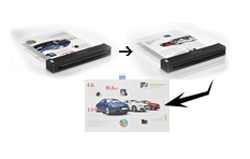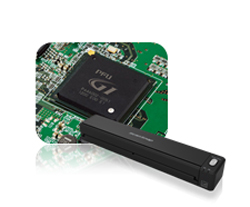 Built-in "GI" microprocessor
A dual-core CPU mounted "GI" processor performs the intelligent image enhancement responsible for great looking images with dramatically faster results and more sophisticated connectivity.
Image processing: Automatic corrections and image output

Supports Wi-Fi: 2.4 GHz, WPS (Wi-Fi Protected Setup) wireless LAN (IEEE802.11b/g/n)
Best experience with ScanSnap Home
ScanSnap Home combines all your favorite functions into one and is the ultimate platform to utilize scanned data in various ways. Easily manage, edit and utilize data from documents, business cards, receipts and photos with the software. You can scan large volumes of various types of documents from color photos to double-sided landscape documents with a host of intelligent automatic image processing functions.
*Data can be transferred to ScanSnap Home from ScanSnap Organizer, ScanSnap Receipt and CardMinder.