Features
Outstanding paper feeding delivers reliable batch scanning regardless of the document condition
The new scanners allow the user to scan a wide variety of paper thicknesses (27 to 413 g/㎡), as well as plastic cards with the same feeding mechanism inherited from our high-end models. In addition, Paper Protection constantly checks along the whole document length during scanning and automatically stops paper feeding when error occurs to avoid any damage to the document. All in all these deliver the reliable scanning experience expected from Fujitsu.
Reliable Skew Reducer even when scanning a mixed size batchThe fi-7140 automatically detect the document size when scanning a mixed size batch. Furthermore, it is equipped with Skew Reducer to detect the alignment of scanned documents and correct paper skews to minimize missing the edge of the scanned image. Users can rest assured that the result will be good even when scanning documents that are not aligned correctly.
Compact design for fast scanning right at your desk
The fi-7140 is a compact model that can be placed on the desk, whether for over-the-counter service or for operations in office. It scans at a speed of 40 ppm (A4, color, 200/300 dpi). Simply press the scan button and it will start scanning within a second. Scanning with the fi-7140 will not keep you, or your customers, waiting.
Automatically creates the most suitable high quality image data for OCR process
The PaperSteam IP scanner driver, which supports TWAIN/ISIS, saves the inconvenience of fine adjusting the settings for the OCR process. It automatically converts the images into exceptionally clean images, accelerating OCR even when scanning wrinkled or soiled documents or documents with a background pattern.
Option: Post Imprinter
The optional imprinter unit prints identification markers like dates, alphanumeric codes and symbols on reverse side of the original document. This makes it easier to locate the originals of scanned document when you need to reference them.
Option: Carrier Sheets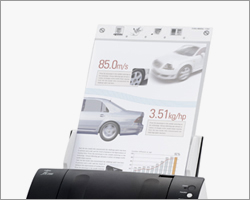 Carrier Sheets allow you to scan documents, photos or clippings larger than A4 size. Documents larger than A4 (such as A3 or B4) or photos and clippings that can be damaged easily can be digitized when using the Carrier Sheets.
* Carrier Sheets (5 sheets per set) can be purchased separately. (The Carrier Sheet should be replaced approximately every 500 scans)