3LCD Technology
All Epson projectors are based on 3-chip LCD technology for amazing colour, incredible detail and solid reliability. 3LCD's 3-chip architecture dedicates an entire chip to process each primary colour – red, green and blue, continuously. Unlike single-chip technology that delivers colour sequentially, you get full-time colour. The result is vibrant, realistic images and video all delivered with 3LCD's true-to-life colour.

Up to 3x Brighter Colours with Epson Projectors*
Epson projectors use 3LCD Engines that have no colour wheel with a white segment and therefore don't force a tradeoff between white and colour brightness.In fact, Epson projectors have up to 3x Brighter Colours than their leading competitive 1-chip DLP projectors*. If you are looking for business and education projectors or 720p home entertainment projectors, know that choosing Epson projectors means up to 3x brighter colours. If you are looking for 1080p home entertainment projectors, you consistently get 2x and up to 3x Brighter Colours than competitor 1-chip DLP projectors*.All Epson projectors list both White Brightness and Colour Brightness specifications, and all have high Colour Brightness.*Compared to leading 1-chip DLP business and education projectors based on NPD data, July 2011 through June 2012. Colour brightness (colour light output) measured in accordance with IDMS 15.4. Colour brightness will vary depending on usage conditions.
11,000 lumens
Powered by 3LCD technology and Epson's dual lamp optical engine, the Z Series is capable of producing White Light and Colour Light Output of 11,000 lumens. Delivering captivating images in virtually any venue.

Award-winning Faroudja DCDi Cinema for Advanced Video Quality
The Epson Z Series features a Faroudja DCDi Cinema chipset, a video enhancement technology that produces exceptional image quality without introducing artefacts. Faroudja DCDi (Directional Correlational Deinterlacing) was developed to eliminate jagging, using a unique algorithm. This technology, in combination with decoding, deinterlacing and enhancement technologies, won an Emmy Award from the National Academy of Television Arts and Sciences.
Enhanced Super Resolution Technology for Sharp, Rich Images
Epson's Super Resolution technology makes standard, and high definition content come alive via its mixed colour separation techniques and imaging simulation. It delivers crisp, clear images with super high-quality resolution, and sharpens blurry images that have been enlarged by a general upscaling process.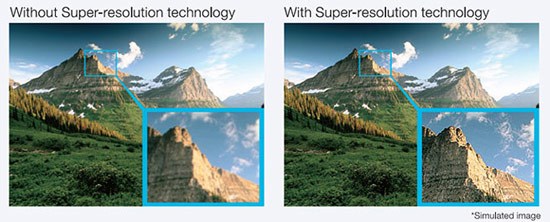 State-of-the-art FineFrame Interpolation Processing Technology
A movie is a series of still frames, shown in quick succession. Traditional movies are shot at 24 frames per second (fps). However, in some cases, fast-moving objects may have moved too fast to be captured on film, so they appear to jump from one part of the screen to another. This effect is called motion judder. In order to reduce motion judder, Epson has created FineFrame interpolation technology, which looks at the frames before and after an action, and creates an interpolated frame, halfway between two existing frames. As a result, a smoother motion is perceived by the viewer. FineFrame interpolation is most beneficial when viewing content such as action movies and sports videos, which are typically shown in High Definition at 30fps. In this case, multiple frames are interpolated and inserted each second, in order to create a more realistic viewing experience.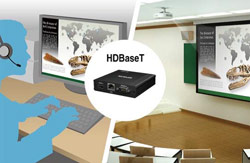 Incredible HDBaseT and diverse connectivity
Connect with virtually any system including HDBaseT, 3G-SDI
1
, HDMI, DVI-D, VGA, BNC and LAN connectivity. Cutting-edge HDBaseT technology means just ne single CAT-5/6 cable carries Full HD video, audio, network and control commands. And it's over 100 metres to accommodate large venues. No need for additional cables, signal repeaters or added labour.
1
3G-SDI not available on the EB-Z9750UNL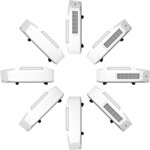 360 Degree Projection
The Epson Z Series can be rotated 360° in any direction for off-axis positioning flexibility. As a result, they can be used for a wide range of applications, such as projecting on the ceiling or floor, or as part of a rear-projection system. Epson technology keeps the projector running without compromising performance or causing overheating.
Edge Blending
Enhance the experience with seamless panoramic, multi-screen images that blend edges by matching colour and brightness perfectly, even in areas that overlap.

Portrait Projection
The Epson Z Series now supports Portrait Projection, perfect for digital signage, fashion shows, art galleries and museums.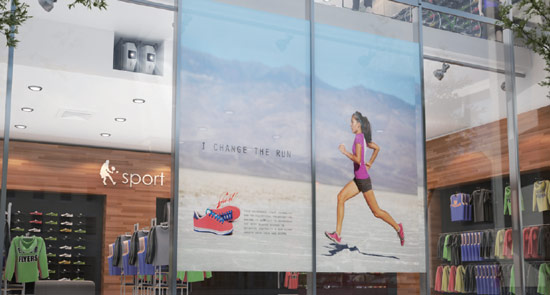 Corner Wall and Curved Surface ProjectionQuickly and precisely correct any vertical or horizontal distortion of an image with Epson's curved surface and corner wall projection. These features allow for greater flexibility when choosing a projection surface. Enhance your viewers experience by projecting your content in a unique environment with ease.
For advanced projection applications, such as panoramas and curved surfaces on the entire façade of a building, projection mapping software will allow the creative projection of images onto curved surfaces and "bend" images around corners.
Arc Correction
Using arc correction, you can adjust each side of a projected image in an arch or barrel-shaped way, making it easier than ever to get a perfectly rectangular image.
Split Screen
Split Screen allows users to display content from two inputs simultaneously, side by side, on a single screen with the option of three different layouts. This makes it possible to display video and presentation materials simultaneously, or run video on both screens.
DICOM Simulation Mode
DICOM (Digital Imaging and Communication in Medicine) is a standard for handling, storing, printing and transmitting medical imaging information. The projector's DICOM Simulation Mode enables users to reproduce images with an advanced grayscale level that simulates DICOM Part 14. This mode is ideal for viewing grayscale medical images, such as X-rays, for training and educational purposes.
Multi-PC Projection
Epson Multi-PC Projection allows you to display four individual PC screens simultaneously over the network (wired or wireless), with another 12 users connected to the same projector on Standby mode. You can drag and drop participants into or out of one of the four quadrants. This feature is a great tool for meetings or classroom projects where multiple users want to present and compare their screens. You can also connect up to four remote projectors at the same time and show the same multi-screen image; another great tool for remote meeting setups.
Tool Free Operation
Reduce set up time with tool free, easy access to the lens, lamps and connectivity.

Powered Lens Shift
In addition to added reliability and amazing colour performance, Epson's industry-leading 3LCD technology enables the projector to achieve a wide range of lens shift capabilities. This lens shift technology enables outstanding installation flexibility with an incredible range of up to ±60% on the vertical axis and up to ±18% on the horizontal axis. Users can operate the lens shift functions using the remote control, the projector control panel, or control commands.
Web Control Window
Connect the projector to the network to simplify the installation process. Adjust the colour mode, image settings, source, aspect ratio and more all from a PC or Tablet.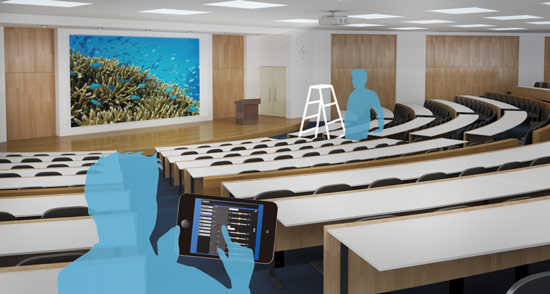 Status Monitor
Access the projectors vital information without having to turn the unit on. The new LCD status monitor allows users to check source, resolution, lamp information and network settings.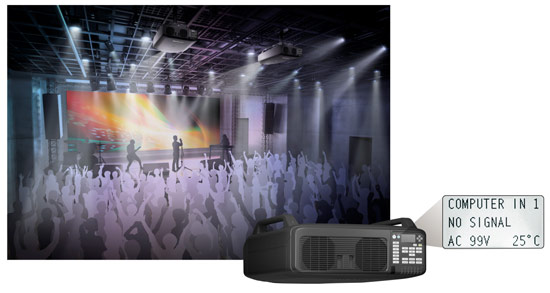 Seven Optional lenses
The Z Series offers increased placement flexibility, with a 1.6x standard lens. For even greater flexibility, Epson offers a total of six lenses with varying ranges including short, wide and rear, along with mid- to long-throw lenses that allow users to choose the motorized lens most suited for their environment. A quick release lever allows for a quick, easy lens exchange. (Lens not included)
Dual Lamp
The Epson Z Series projectors boast a dual lamp system (two 380W lamps) that eliminates the risk of interruption. If one lamp were to fail, operation would continue, using the other lamp. Each lamp has a long lamp life — up to 4,000 hours in ECO Mode, up to 3,000 hours in Normal Mode. Replacements are made easy with tool-free and unobstructed access to the rear control panel. In addition, the new Dual Lamp Relay and Single Lamp Relay function allows users to extend the life of their lamp by alternating the lamp in use.

Quiet, Reliable Liquid Cooling System*
Epson's innovative system uses liquid to cool the LCD chips directly. The liquid absorbs the heat and is then cooled by a peltier device, which is then cooled by a fan, thereby keeping the overall optical engine cool. This system design promotes greater reliability and enables stable operation in temperatures up to 50°C. In addition, it offers quiet, unobtrusive operation and allows for off-axis installation orientations.*Not available on the EB-Z9750UNL
Easy maintenance
Offering convenient access to the lamps and filter, the Epson Z Series makes maintenance easier than ever, even if the projector is ceiling mounted. The lamp cover is located on the rear side panel and there are no screws, so the lid can be removed without any special tools. In addition to easy lamp and filter replacements, the Z Series includes features that make it easy to monitor and control. With EasyMP Monitor, users can access advanced status functions over the LAN.

Continuous 24 Hour Use
Enjoy the flexibility of running your projector 24/7 with guaranteed performance and reliability. With Epson's latest generation of inorganic LCD panels and unique optimised cooling systems, the Z Series projectors are capable of 24/7 use warranted up to 20,000 hrs. With advanced installation flexibility and continuous use, Epson's Installation projectors are suitable for almost any application!