3LCD TechnologyAll Epson projectors are based on 3-chip LCD technology for amazing colour, incredible detail and solid reliability. 3LCD's 3-chip architecture dedicates an entire chip to process each primary colour – red, green and blue, continuously. Unlike single-chip technology that delivers colour sequentially, you get full-time colour. The result is vibrant, realistic images and video all delivered with 3LCD's true-to-life colour.

Up to 3x Brighter Colours with Epson Projectors*Epson projectors use 3LCD Engines that have no colour wheel with a white segment and therefore don't force a tradeoff between white and colour brightness.
In fact, Epson projectors have up to 3x Brighter Colours than their leading competitive 1-chip DLP projectors*. If you are looking for business and education projectors or 720p home entertainment projectors, know that choosing Epson projectors means up to 3x brighter colours. If you are looking for 1080p home entertainment projectors, you consistently get 2x and up to 3x Brighter Colours than competitor 1-chip DLP projectors*.
All Epson projectors list both White Brightness and Colour Brightness specifications, and all have high Colour Brightness.

Stunning 4K EnhancementDiscover a whole new way to watch movies — the way filmmakers intended. Epson's 4K Enhancement Technology delivers astonishing picture quality. Now every subtle intricacy is captured — even your most-loved films will offer something new. Plus, Epson's Detail Enhancement Technology refines surface details for true-to-life images that pop off the screen. Users can adjust levels of sharpness and detail enhancement for optimal viewing. This isn't just a new way to watch movies — it's the best way.
Upscale 1080P Content

4K Enhancement makes standard and HD content come alive. From the feathers in a plume to freckles on a nose, you'll see every incredible detail.

Pixel ScalingEpson's revolutionary 4K Enhancement Technology shifts each pixel diagonally by 0.5 pixels for twice the vertical and horizontal resolution. Enjoy unbelievable sharpness and clarity, even closer to the screen. 4K Enhancement delivers immersive images.

Wide Colour Gamut
Enjoy brilliant, color-rich performance. The full sRGB colour gamut is visible even in the brightest mode. And, the DCI color gamut — the digital cinema standard — is also achievable.
Lens MemoryFast, quiet and precise, the new range allows you to preset up to 10 positions for zoom, focus and lens shift.
A True Cinematic ExperienceInnovations, including Epson's unique Super-resolution with Detail Enhancement Technology, exceptional frame interpolation capabilities, as well as powerful Bright 3D Drive projection let you experience a new standard in home entertainment.

Super Resolution with Detail EnhancementSuper-resolution defines edges for standard and HD content, while Detail enhancement refines surface detail for true-to-life images.

Frame InterpolationFrame interpolation technology inserts multiple new frames between the original ones, so motion appears smoother, sharper and more realistic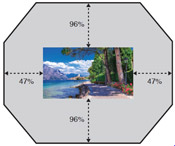 Powered Lens Shift, Zoom and FocusIn addition to added reliability and amazing colour performance, Epson's advanced projection technology enables a wide range of lens shift capabilities for outstanding installation flexibility. Boasting an incredible range of up to ± 96 percent on the vertical axis and up to ± 47 percent on the horizontal axis. Users can operate the lens shift functions using the remote control, the projector control panel, or control commands.
Efficient Cooling SystemWhen it comes to home cinema, you want to focus on what's in front of you — and nothing else, that's the idea behind the innovative, efficient cooling system of the EH-TW8300. With noise levels as low as 20 dB, this is among the quietest projectors in the industry. It's time to enjoy engaging cinema without distraction — all the better for those moments when the picture takes your breath away.

Bright 3D Drive Technology for 3D Cinematic AdventuresEnjoy thrilling 3D adventures right in the comfort of your living room. Featuring Bright 3D Drive technology, the EH-TW8300 puts you right in the middle of the action. Epson's drive system minimises the blackout time of 3D glasses and provides greater brightness when viewing 3D content.
2D-to-3D ConversionTransform any 2D movie, from the latest science-fiction adventure to your favourite classic, to spectacular 3D, or watch the big game in exciting 3D. It's easier than ever with convenient 2D-to-3D conversion, with just the touch of a button, you can watch your favourite shows and movies in eye-popping 3D. There are no special discs required. And, the possibilities are endless.