Operating System
Available with Windows 10 Pro – for a smooth, versatile PC experience.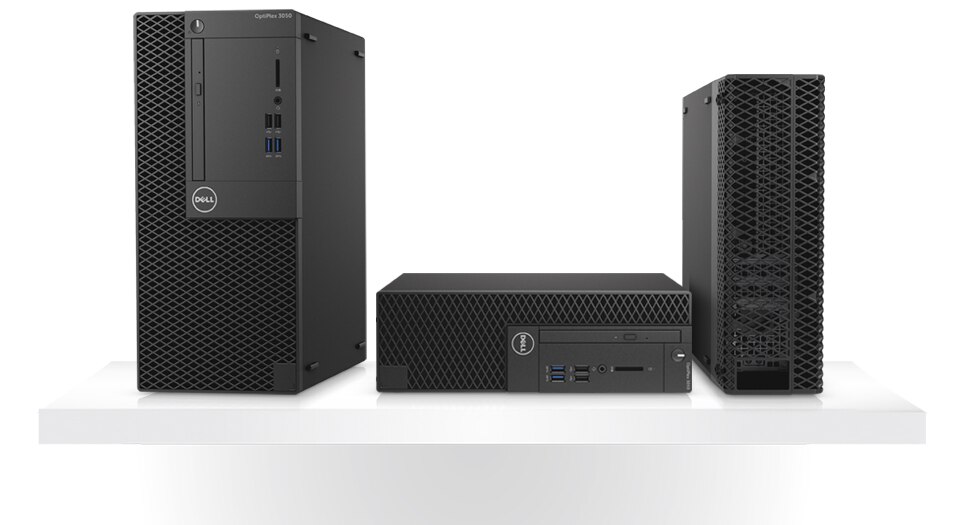 Thoughtfully designed
Work unimpeded: These desktops come with all the same reliability and space saving benefits you've come to expect without sacrificing power or performance.
Take back your workspace: Custom-designed cable covers reduce clutter and match the chassis for a more efficient and visually appealing work space.
Service with ease: Tool-less serviceability and in-band management enable accessible system maintenance so you can you easily upgrade and replace components.
Stay flexible: The new OptiPlex Small Form Factor All-in-One Stand, provides the aesthetics of an all-in-one, with the ultimate display flexibility your work demands.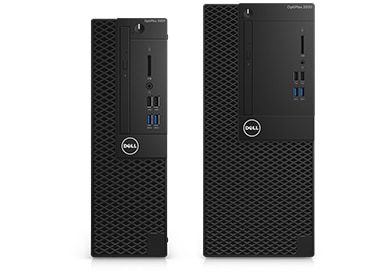 Features that drive business
More powerful than ever: Designed around Intel 7th Gen 65W processors with support up to Core i5.
A smoother experience: Support next generation AMD discrete graphics for faster and smoother response times.
Power your performance: The Intel® Optane Memory™ greatly improves the performance of standard HDDs with the help of powerful PCIe SSD drives.
Stronger signal: Improve wireless performance with the latest 802.11ac Wave 2 Wi-Fi. Stay connected at a greater distance from your Wi-Fi router and deliver top Wi-Fi speeds for faster streaming.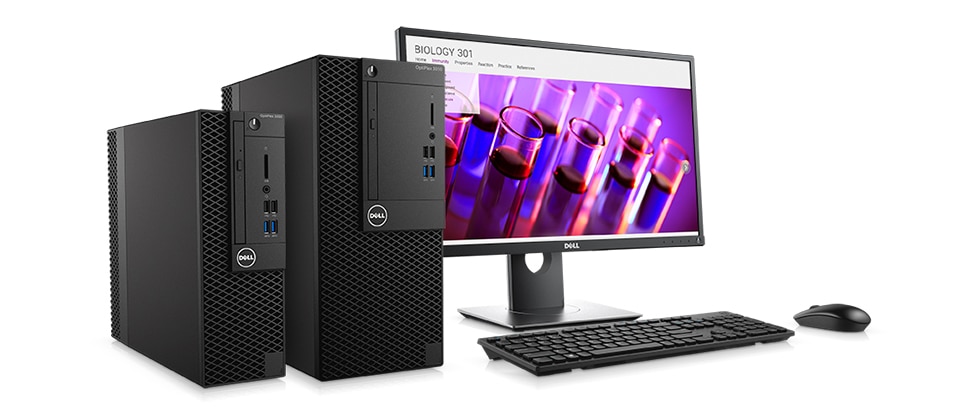 Secure, reliable and manageable.
A partner you can trust: The OptiPlex 3050 delivers the reliability and consistency your work demands.
Always up to date: Every OptiPlex 3050 is available with Dell Command Suite, making driver, BIOS, and firmware updates easier. These free tools allow flexible and automated BIOS or system configurations for your company, allowing you to manage your fleet easily and securely every time.
Stay secure: With TPM, chassis intrusion, DDPE, and tower/small form factor cable covers you can focus more on your work a spend less time worrying about your system.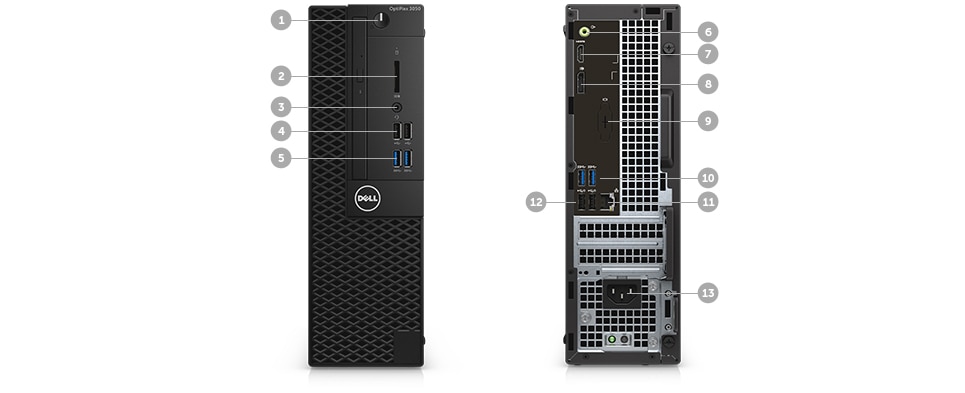 Ports & Slots – Small Form Factor
1. Power button | 2. Optional SD Media Card Reader | 3. Universal Audio Jack | 4. USB 2.0 ports | 5. USB 3.1 Gen 1 ports | 6. Line out | 7. HDMI 1.4 | 8. DisplayPort 1.2 | 9. Serial Port | 10. USB 3.1 Gen 1 ports | 11. RJ-45 | 12. USB 2.0 ports | 13. Optional platinum 92% efficient PSU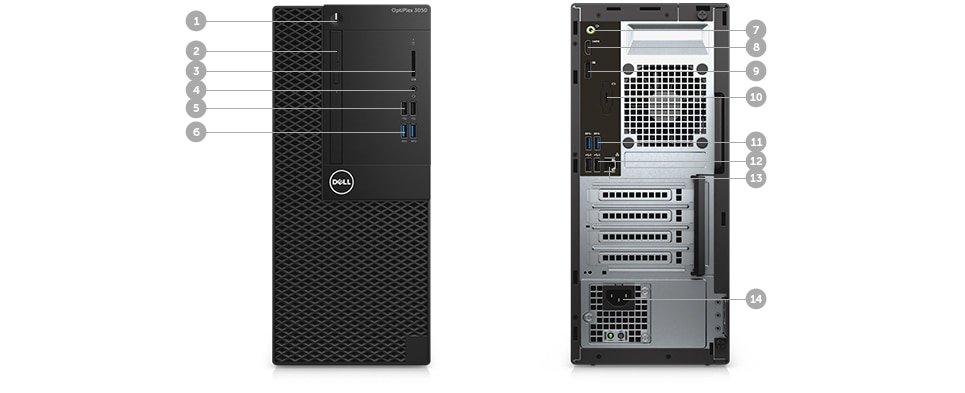 Ports & Slots – Tower
1. Power button | 2. Slim 9.5mm optical drive | 3. Optional SD Media Card Reader | 4. Universal Audio Jack | 5. USB 2.0 ports | 6. USB 3.1 Gen 1 ports | 7. Line out | 8. HDMI 1.4 | 9. DisplayPort 1.2 | 10. Serial Port | 11. USB 3.1 Gen 1 ports | 12. USB 2.0 ports | 13. RJ-45 | 14. Optional platinum 92% efficient CPU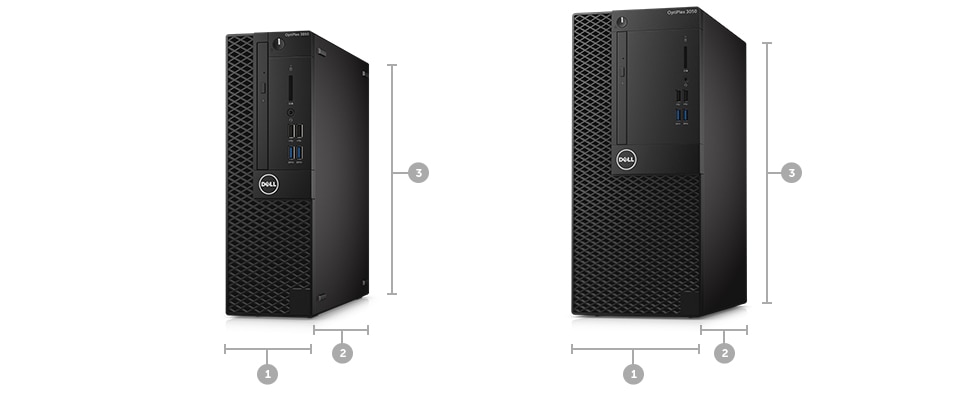 Dimensions & Weight
Small Form Factor: 1. Width 9.26cm (3.7″) | 2. Depth 29.2cm (11.5″) | 3. Height 29.0cm (11.4″) | Minimum Weight 5.14 kg (11.31 lbs)
Tower: 1. Width 15.4cm (6.1″) | 2. Depth 27.4cm (10.8″) | 3. Height 35cm (13.8″) | Minimum Weight 7.93kg (17.49lbs)