ENGINEERED FOR ULTIMATE SPEED
ROG G701 is a portable and stylish gaming laptop that's engineered for incredible gaming performance. Overclockable NVIDIA® GeForce® GTX 1080 graphics gives it the potential to go toe-to-toe with even the most hardcore of all gaming laptops. ROG G701 is paired with an ultra-fast 120Hz G-SYNC display for smooth gaming performance to give you a competitive advantage on the battlefield.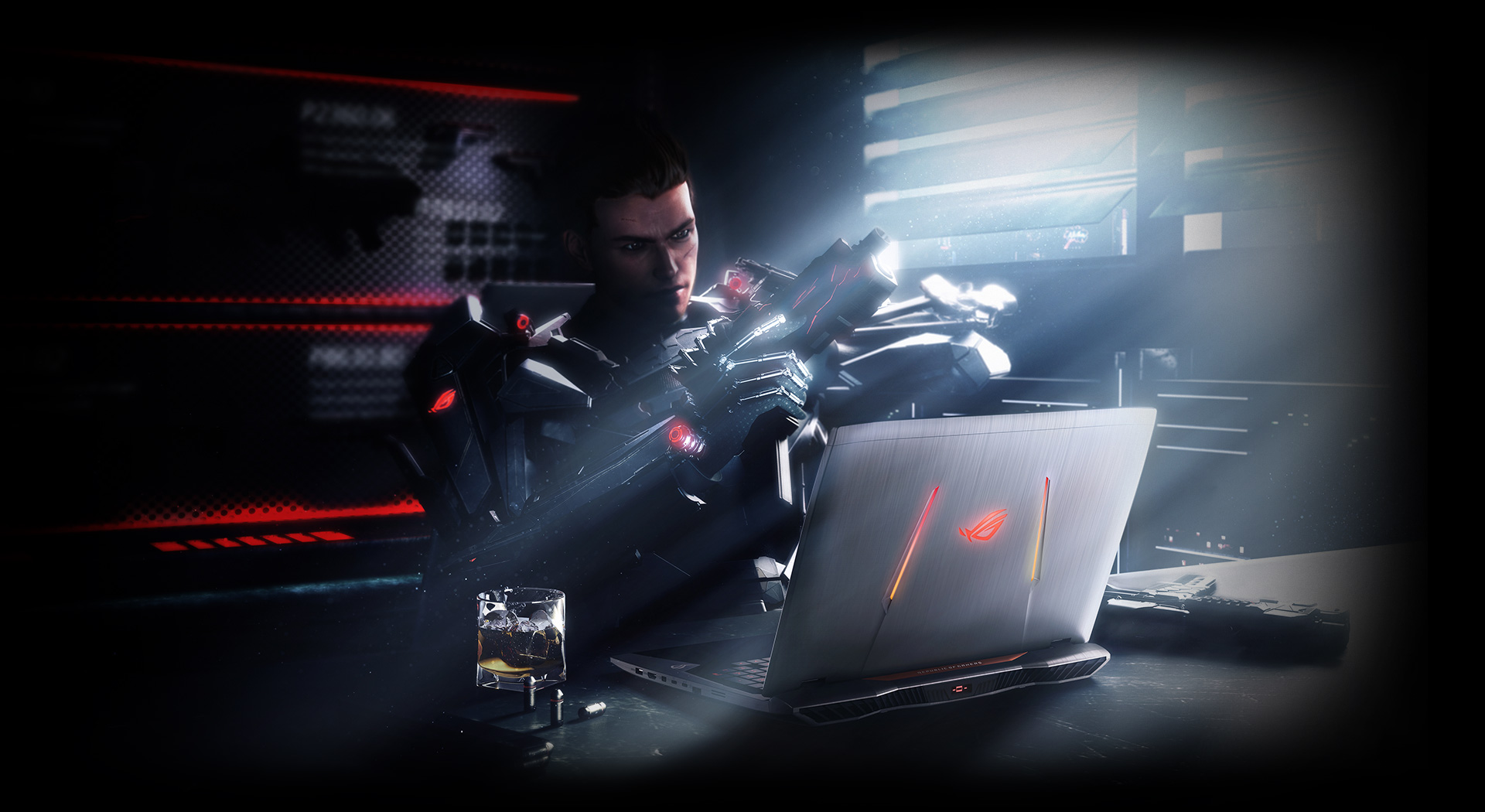 THE SLIM AND STYLISH GTX 1080 GAMING LAPTOP
Despite its slim size, ROG G701 packs the mighty NVIDIA® GeForce® GTX 1080 graphics. G701 is also powered by an overclockable Intel® Core™ i7 K-series processor to deliver desktop-grade gaming performance. Compared to other GeForce® GTX 1080 laptops, G701 is remarkably slender at just 32.5mm thin Bio-Armor design with the new ROG Armor Titanium and Plasma Copper color scheme. Extreme performance, exceptional style and enviable portability – G701 has everything you need to dominate at your next LAN party!

IMMERSIVE VIRTUAL REALITY
The VR Ready NVIDIA® GeForce® GTX 1080 GPU boosts speed and power efficiency for brilliant performance in Virtual Reality. Enjoy immersive virtual reality that is smooth, low-latency, and stutter-free.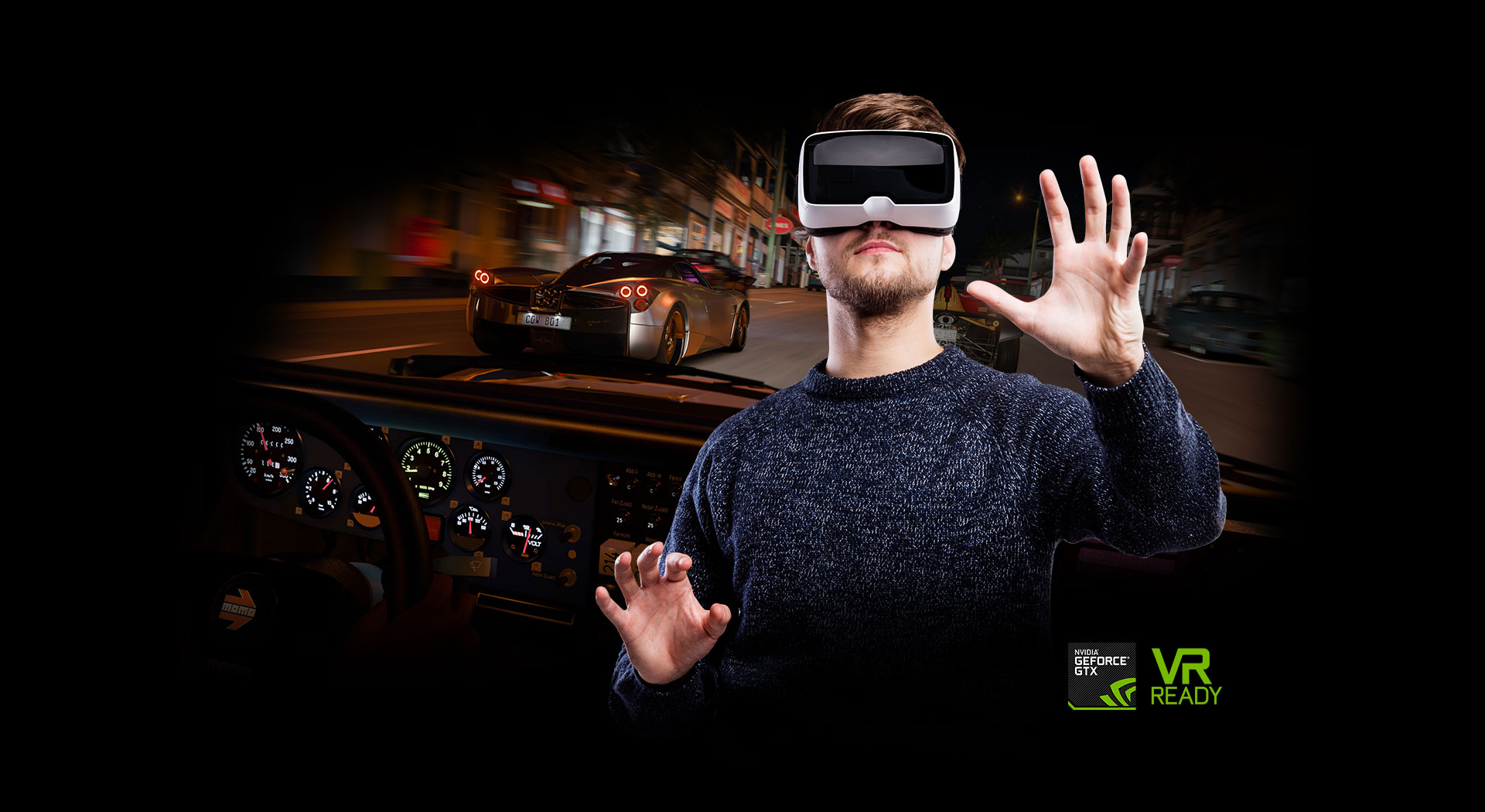 WORLD'S FIRST 120HZ WIDE-VIEW PANEL WITH NVIDIA® G-SYNC™
ROG G701 It is the world's first laptop with a super-fast 120Hz wide-view panel that supports NVIDIA® G-SYNC™ technology for fast-paced games. G701 features NVIDIA® G-SYNC™ display technology which synchronizes its display's refresh rate with its graphics card for ultra-smooth visuals. G-SYNC™ helps avoid lag, minimizes frame-rate stutter, and eliminates visual tearing. It delivers the smoothest and fastest gaming graphics all without affecting system performance!
ANTI-GHOSTING KEYBOARD WITH 30-KEY ROLLOVER
ROG G701 has an anti-ghosting keyboard with 30-key rollover technology so up to 30 keystrokes can be instantaneously and correctly logged, even when you hit several of them at once. Each key is ergonomically-designed to ensure solid and responsive keystrokes when typing or entering commands – making it easy for you to dominate the battlefield. And with a new Record key and more macro keys at your disposal, everything you need is at your fingertips.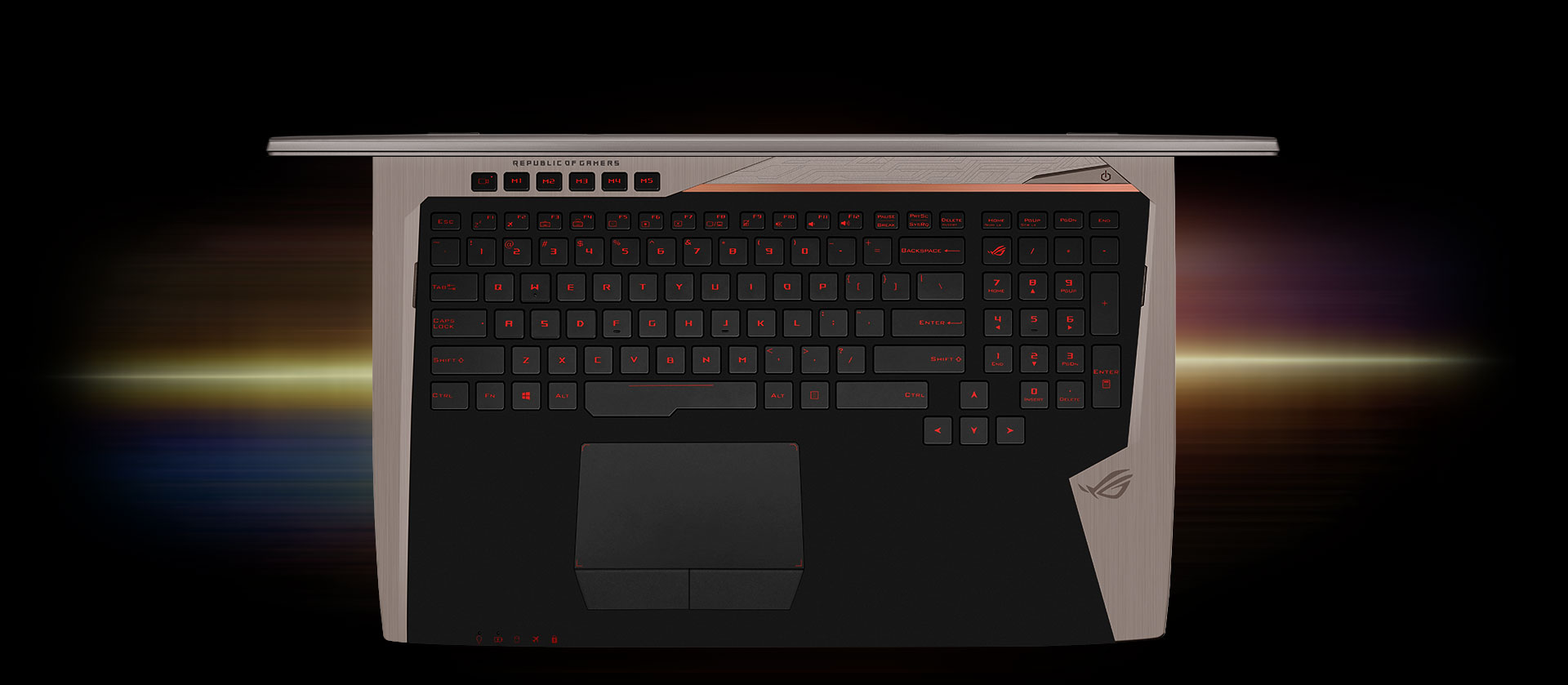 ESS SABRE HEADPHONE DAC AND AMPLIFIER
ROG G701 features an ESS Sabre headphone DAC and amplifier to give you a sample rate eight times greater than CD-quality audio. The ESS Sabre headphone DAC improves sound quality to provide you with a high dynamic range (DNR) and less noise for rich 384Hz/32bit sound output. In-game audio sounds richer, with greater detail and less distortion, even when you're using a headset. In addition, the ESS amplifier adds bass and enhances audio for even clearer, detailed sound.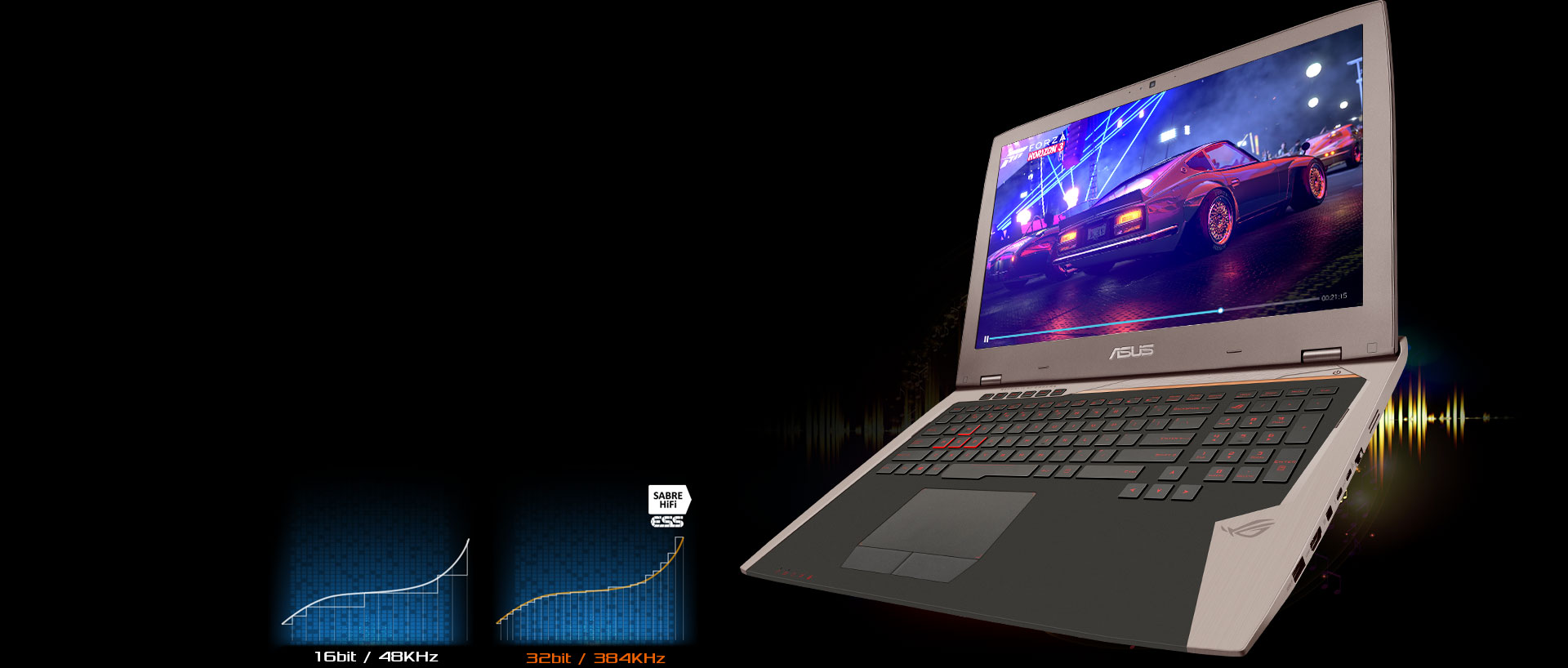 POWERFUL GAMING LAPTOP WITH UP TO 64GB DDR4 RAM
ROG G701 has four DDR4 slots to support up to 64GB DDR4 RAM. 2400MHz DDR4 RAM gives you up to 20% more performance and 30% more energy efficiency over 1600MHz DDR3 RAM.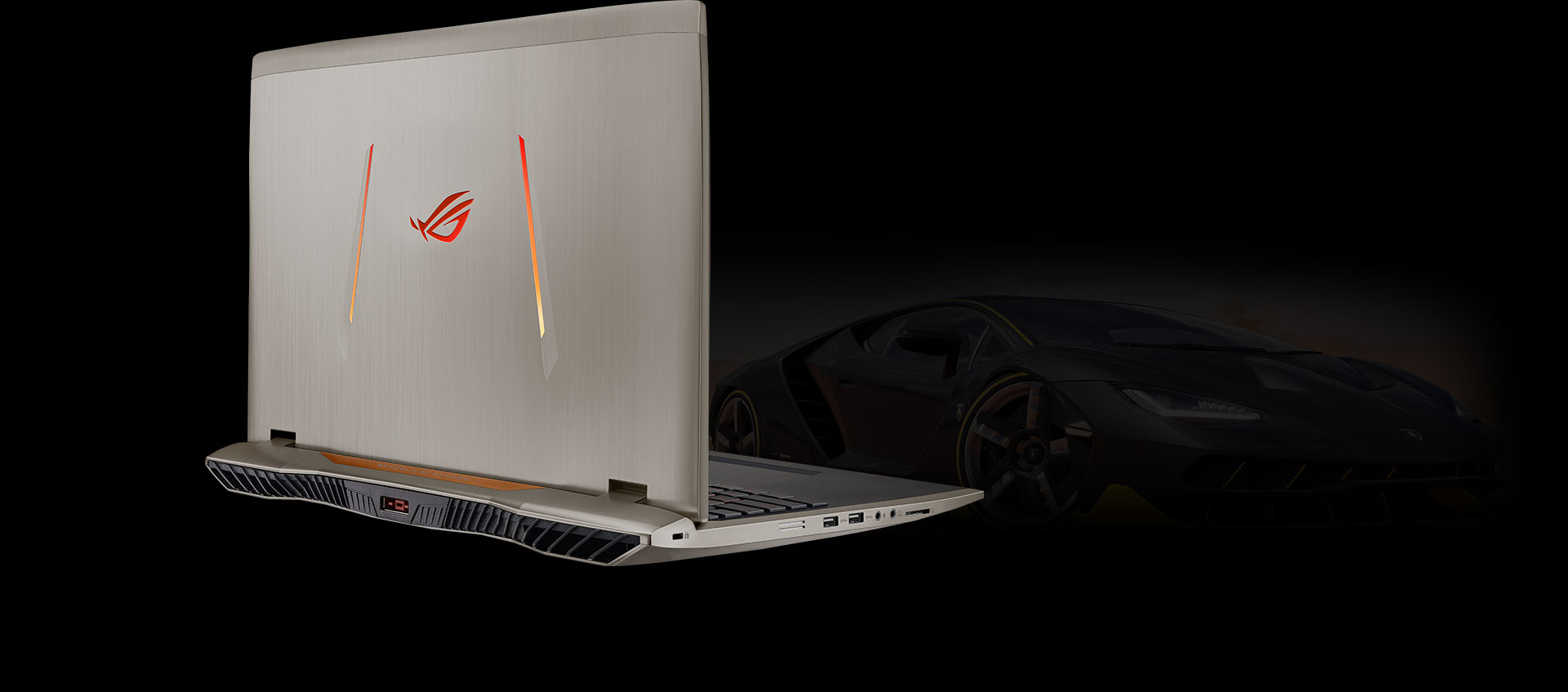 ROG HYPERDRIVE FOR BLAZING-FAST STORAGE SPEEDS
ROG G701 features HyperDrive RAID 0 and the latest NVM Express™ (NVMe) and PCI Express® technologies for superfast data access speeds so in-game visuals are smoothly-rendered instantly. Blisteringly-fast data speeds, together with the exceptional cooling performance, let you fully exploit ROG G701's full gaming potential.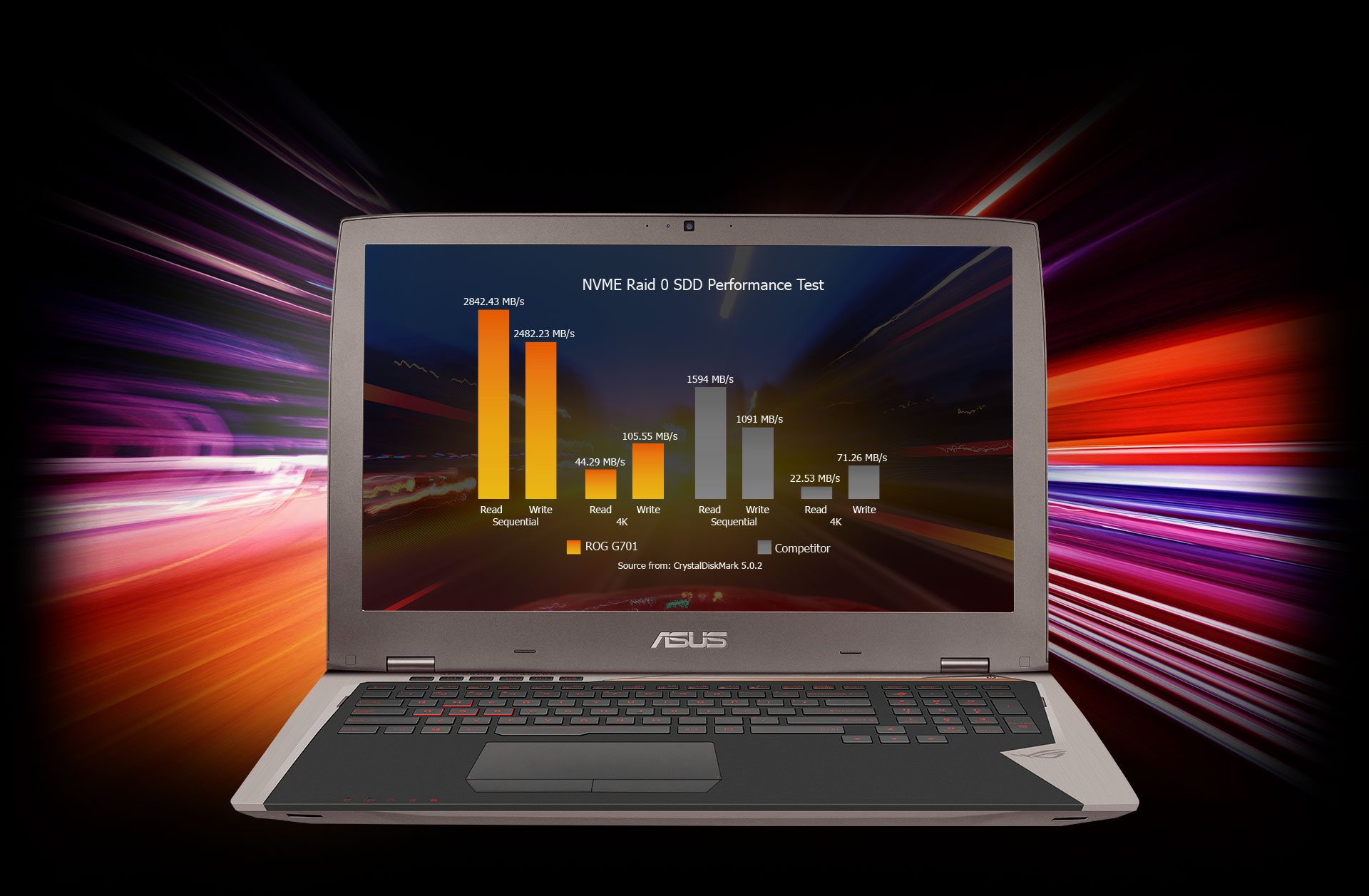 ROG GAMING CENTER
ROG Gaming Center improves your gaming experience. This integrated control center gives you access to all the functions you need on a single dashboard find system information, set up hotkeys for faster in-game commands, adjust audio settings, or record gameplay. In addition, ROG GameFirst III technology optimizes network traffic for faster, lag-free online gaming. Choose between four preset package priority modes (Optimization, Game, Media Streaming, and File Sharing) from its intuitive interface.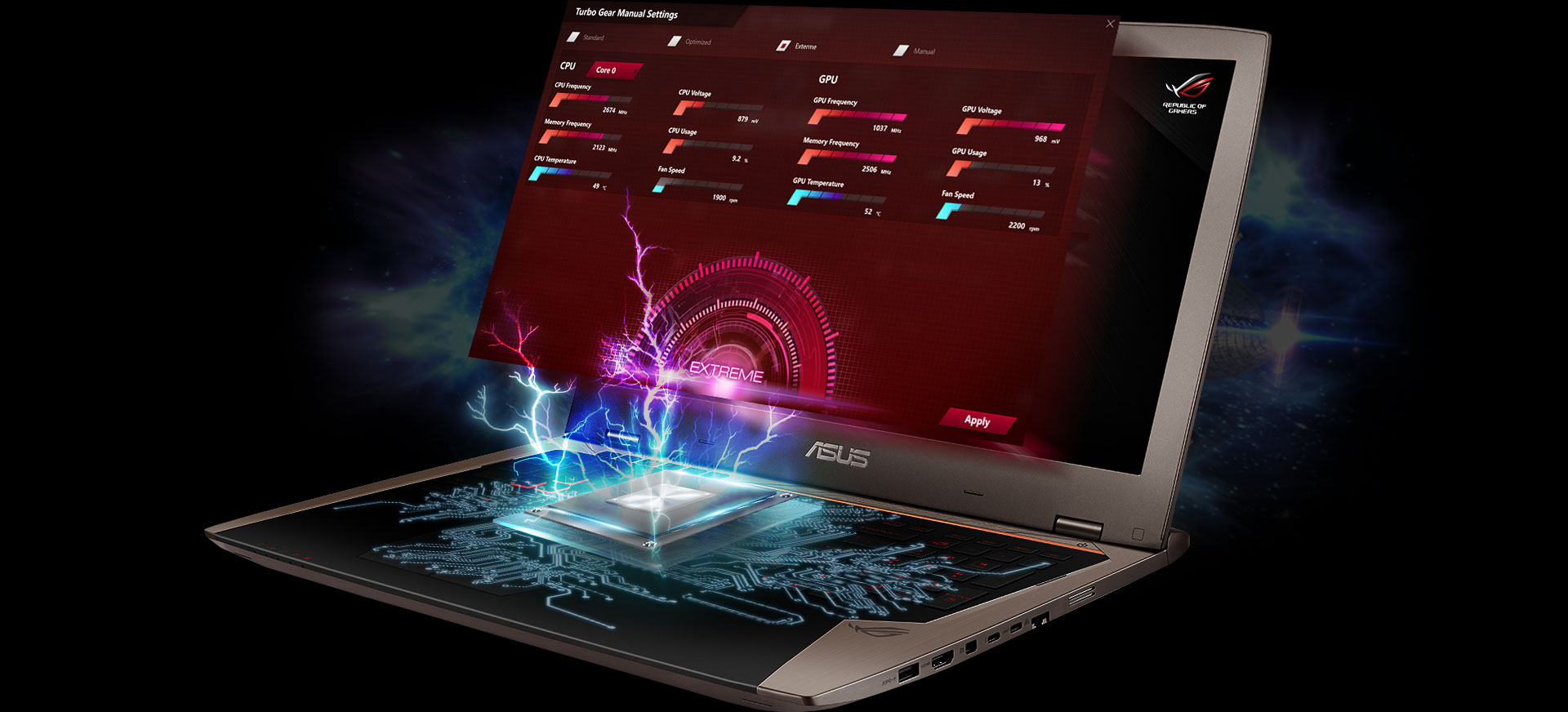 XSPLIT GAMECASTER
ROG G701 gives you lifetime access to XSplit Gamecaster so you can easily stream or record gameplay via a convenient, in-game overlay. You can even make in-game annotations with a single keystroke to highlight what's happening onscreen.You can also interact with friends and fans by broadcasting on Twitch.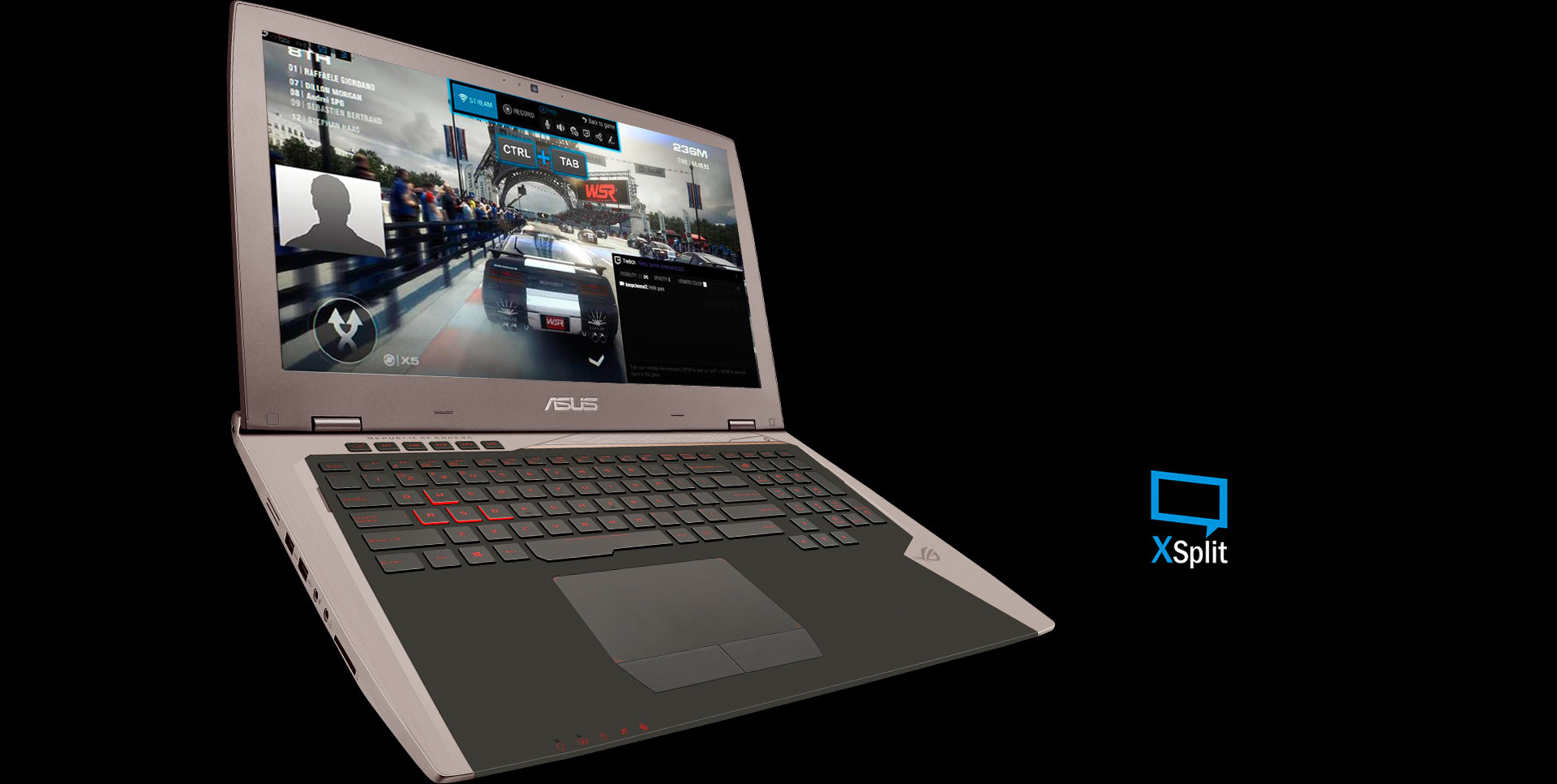 SONIC STUDIO II & SONIC RADAR II
ASUS Sonic Studio and Sonic Radar give ROG G701 truly immersive gaming audio. Sonic Studio provides high-quality gaming audio, as well as improved streaming and audio recording for perfect voice pickup and noise reduction. Sonic Radar helps you detect opponents through an on-screen overlay that shows the relative position of gunshots, footsteps and other in-game sound effects.

Intel® Thunderbolt 3 with USB Type-C
Onboard Intel® Thunderbolt™ technology gives you single-cable data and signal transmission rates of up to 40Gbps – four times the bandwidth of USB 3.1. ROG G701 gives you both Intel® Thunderbolt™ and USB 3.1 Type-C ports for increased compatibility with your various devices.